About Cyprus
Cyprus is an island of legends that basks year-round in the light of the warm Mediterranean sun. A storied past 10,000 years long has seen civilizations come and go and the likes of everyone from Alexander the Great to Cleopatra stake their claim here - but then, people do tend to get possessive when faced with such beauty. Aphrodite made her home on Cyprus, and travelers throughout antiquity came here just to pay her tribute. 
Today Cyprus is a modern country that effortlessly marries European culture with ancient enchantment. Here you will discover a compact world of alluring beaches and fragrant mountain peaks, vineyards studded with olive trees and ancient ruins that stir the imagination, citrus groves and old stone villages where sweet wine flows as freely as conversations at the local café. A carefree place where a sense of timelessness is magnified by the kindness of the people.
Cyprus enjoys approximately 340 sunny days per year, the hottest months are July and August and hotels are fully open during months of April – October, whereas some close November – March.
The wettest months are December – February. You should step inside Cyprus for an in-depth look at an island that is as exotic as you imagine and more accessible than you might think, with her people's warmest hospitality ever.
Why Pafos?
Pafos is located on the southwest coast, ranks as one of Cyprus most popular resorts combining a wealth of ancient sites, excellent property and plenty of local flavor. Compared to other seaside towns like Limassol, Pafos exudes a much slower pace of life and has always been particularly popular with UK visitors, many of which form part of the permanent local population.
 There is plenty to explore and for superb beaches, Coral Bay a 15 minutes drive from Pafos ranks as one of the best in the area. There are two nearby golf courses and plenty of sporting facilities and for the evenings there are a multitude of restaurants to choose from.
Pafos is actually made up of two twin-towns. High on the hilltop, Ktima is a typical large town with thriving local shops, taverns, interesting buildings, churches and museums. In contrast ,Kato Pafos is the tourist area, which has developed by the waterfront providing visitors and residents with a very long promenade lined with excellent hotels and accommodation positioned either right by the sea or just across the road in between masses of shops and tavernas. Side streets too are packed with bars, discos, clubs, restaurants and more shops, all patronised by locals and tourists alike.
Cyprus Photo
Agia Kyriaki Paphos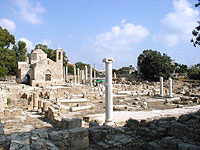 Paphos Castle